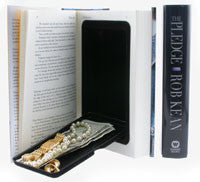 Streetwise
Book Safe Real Book with Safe for Valuables
---
Book Safe, one of the safest places to store valuables in plain sight.
With this book you can hide your valuables in what looks like an ordinary book- the last place a thief would think to look.
This is an actual book with a space in the center cut out and comes in assorted titles. The outside dimensions of the book are 9 1/2 x 6 3/8 x 1 3/4 inches. The dimensions of the space inside are 6 3/4 x 3 3/4 x 1 1/4 inches.
The book has a removable sleeve with a title of "The Undercover Booksafe" for use in a retail store. After purchase this sleeve should be removed so the actual book cover is displayed.
Most burglars spend less than six minutes inside a victim's home and only have time to check the most obvious places for valuables. How many burglars spend time going through your books looking for one to steal?  Hide in plain sight.
---
Share this Product
---
More from this collection