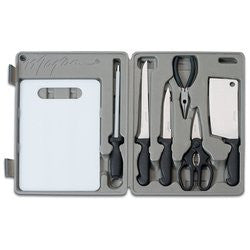 Maxam
Maxam SKFISHER Fisherman's Set 8 Pieces Free Shipping
---
Maxam SKFISHER Fisherman's Set 8 Pieces
Includes everything but the bags for storage you will need for cleaning and filleting. This set includes a fillet knife that has the right amount of flex to clean just about any fish you can catch. The smaller knife has a ridge spine for scaling on larger fillets you want to leave the skin on for grilling. This great mid size knife works well around the kitchen for boning out large piece of meat also. The shears have a mild serration pattern for heavy rib cages of Striper or Redfish or other larger species. They also double as a jar opener built into the handles.
For proper use of knives, they should be kept sharp. The sharpening steel is perfect for touch up as your working through that huge cooler of fish the family just caught. You can take this set with you to the pier and use the pliers for cutting fishing line, removing hooks, light wire cutting for stainless steel leaders, whatever the chore calls for. The mid size knife works great as a bait knife and the cleaver works well for larger pieces of bait or chum.
This set works as well in the kitchen as it does on the pier or boat. there's no telling how many uses you can come up with for this all purpose set.
 
---
Share this Product
---
More from this collection