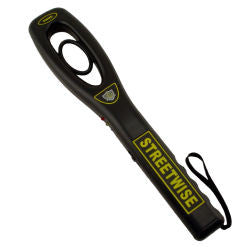 Streetwise
Metal Detector Handheld by Streetwise SWMD
---
Streetwise Security Secure Scan Metal Detector, designed for use by law-enforcement officers and security personnel to quickly detect even the smallest metal weapons.
Features a large detection area for a fast and thorough scan. Its lightweight design and comfortable handle make it easy to use for long periods of time.
Includes hand strap and carry holster with loop. Ideal for use in airports or schools or prisons or sporting events or nightclubs etc.
Features Duel Indicators - you can choose either an audible tone or vibration. LED light in both the audible tone and vibration modes a bright LED light on the front of the metal detector changes from red to green if metal is detected.
Highly sensitive will detect even the smallest metal weapons from 4 inches away. Rechargeable Battery Jack can be powered by either a standard or a rechargeable 9 volt battery (battery and charger are not included).
Holster with belt loop included for easy carrying.
Adjustable sensitivity-counter clock wise less sensitive clockwise more sensitive. Includes a wrist strap.
Measures 16" x 3-1/8" (at the widest point) x 1-1/2 (at the tallest point).
---
Share this Product
---
More from this collection