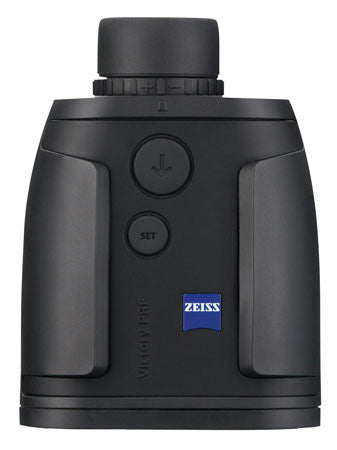 Zeiss
Zeiss 524561 Victory PRF T Laser Rangefinder Free Shipping
---
Zeiss Victory PRF T Laser Rangefinder Free Shipping   

The smallest member of the rangefinder family, the Victory PRF Laser Rangefinder weighs just 10.93 oz., and is an indispensable companion in open country or in an unfamiliar field.
The laser rangefinder allows you to measure distances up to 1200 meters in less than a second, with reliability and precision. When the BIS (ballistic information system) is activated, you will also see the corrected value for the point of impact on the self-illuminating LED display.
The BIS gives you all the information you need to correct the holdover point quickly and precisely. The Carl Zeiss T* multi-layer coating ensures high transmission; giving you a bright and clear image even in poor light conditions.


Magnification: 8x
Objective: 26mm
Min. Distance: 10 yds
Max Distance: 1300 yds
Field of View: 361 ft @ 1000 yds
Eye Relief: 17.5mm
Length: 5.1"
Weight: 10.93 oz
Finish: Black

Weatherproof
 
---
Share this Product
---
More from this collection