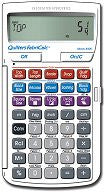 Calculated Industries
Calculated Industries 8400 Quilting Calculator FREE SHIPPING
---
Calculated Industries Quilting Calculator 8400 Quilter's FabriCalc  FREE SHIPPING
Quilt Design and Fabric Estimating Calculator for Quilting Made Easier Dedicated Functions. Work in Yards, Inches, and Metric measurements.
Convert between dimensions. Estimate material requirements.
Use dedicated function keys to enter Quilt Width, Length and Border Width; find total Quilt Yardage, Backing, Batting, Binding and Border Yardage; Drop; Border number of Strips, Binding number of Strips, Binding Cut Width and more!
Calculate the total yardage for squares, 1/2 square triangles, 1/4 square triangles, 45 degree and 60 degree diamonds. Reverse calculations to find the number of squares and diamonds that can be cut from fabric in your "Stash". Create quilt designs using block key functions, with or without sashing.
Find diagonal for total quilt yardage, blocks and squares. Set and store values for Length and Width of Drop (3 sides). Store fabric yardage solutions for six individual types of fabric and view total yardage required for all fabrics required for all fabrics.
Additional Features:
Easily calculate total costs for material.

Works as a standard math calculator with +, -, x, ÷, %,   and MemoryDefine (change calculator default values) and store material values.

Easy-to read (LCD) display shows answers in simple quilting terms
Includes:
Protective 360 degree Hard Cover Door

Long-life Battery (one CR-2016)

Handy Pocket Reference Guide

Easy to read and understand illustrated User's Guide.

Full One Year Limited Warranty
---
Share this Product
---
More from this collection