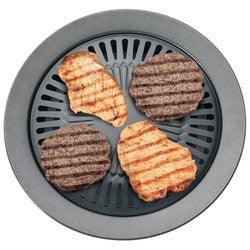 Chefmaster
Chefmaster KTGR5 Smokeless Indoor Nonstick Stovetop Barbeque Grill Free Shipping
---
Chefmaster Smokeless Indoor Stovetop Barbeque Grill Free Shipping
Looking for a great gift for your coworkers?  This is it.  Get a quantity quote.
This 13" grill with iron plate works on standard electric, gas or propane stoves. The waterfilled outer ring catches fat and juices during cooking eliminating smoke and splattering. The high quality nonstick surface insures easy clean up.
2 year warranty. Gift boxed 2 lbs.
Set Contents
Water-Filled Outer Ring Catches Fat and Juices During Cooking, Eliminating Smoke and Splattering
High Quality, Non-Stick Surface Insures Easy Clean Up
Measures 13" Round
Limited Two Year Warranty
NOT for use with electric solid element or glass-top stoves.
---
Share this Product
---
More from this collection